Ulultronica: A Sonic Survey Exhibition
Shijiazhuang
12 Aug. 2023 - 30 Sep. 2023
Ulultronica: A Sonic Survey Exhibition
---
Ulultronica: A Sonic Survey Exhibition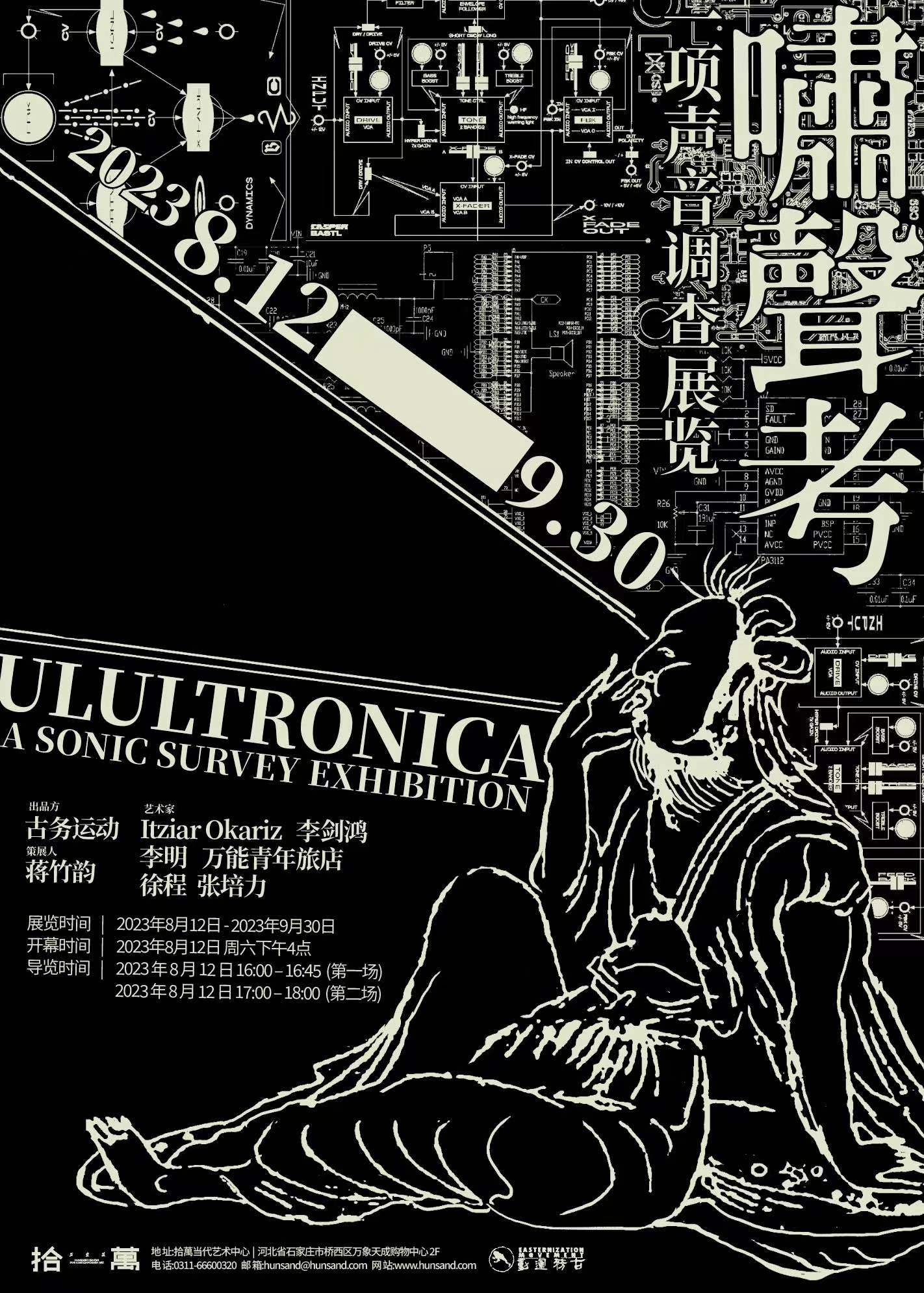 Producer:
Easternization Movement
Artists:
I
t
ziar
Okariz,
Li Jianhong, Li Ming, the Omnipotent Youth Society, Xu Cheng, Zhang Peili
Duration:
12

Aug

. 2023 - 30 Sep. 2023
Opening:
4pm, 12 Aug(Sat.). 2023
---
Characterized by its high-pitched tonality, far-reaching amplitude, extended duration, and resounding volume, the ululating manifestation is present in various aural cultures, and each of them interprets the ululation's significance differently. In some cultures, ululation is used to express mourning, joy, or as a medium for ceremonies and rituals. Others transform ululation from a mere sound practice into a spiritual and internal practice. The project, inaugurated at the Hunsand Center for Contemporary Art in Shijiazhuang, is a perennial curatorial endeavor conceived by Hangzhou-based artist Jiang Zhuyun, with the participation of additional cultural practitioners in subsequent stages.
The initial inspiration for the project came from the prevalent presence of piercing voices over the past three years of lockdown. Additionally, the single "Hebei Moqilin" by the band " the Omnipotent Youth Society" unfolds its creative narrative around the geological storytelling of the Taihang Mountains. The vocal endeavor has provided contemplation on the speculative realm of this bygone vocal quality. Notably, Chinese records on ululation (啸) date back thousands of years, with its initial popularity attributed to the literati Ruan Ji (A.D. 210–263). The non-human characters in the song also serve as a reminder that ululation aims to transcend human attributes through human voices.
In the first instalment of the exhibition, the focus will be on the sound artists' utilization of audio feedback, commonly referred to as "howling." The artists incorporate feedback into their works to create a transcendent audiovisual experience. In Zhang Peili's artwork "Collision of Harmonies" (2014), he explores the feedback effect through a dynamic sound installation, positioning audio sources in direct confrontation. In contrast, Li Ming's video work "《"《Feedback》"》" (2018) places five closed-circuit monitors from different angles in his studio space, transforming the videos themselves into not just a display of visual feedback but also part of the feedback loop. Surrounded by these video loops, the artist's performative body is eventually able to transcend the feedback loop. Sound artist Xu Cheng's "Cries of Wind" (2016) utilizes discarded materials from the environment to create sound emitters suspended in space, emitting synthesized sound effects. He records soundtracks using this equipment, presenting the interaction of natural environmental sounds and synthesized sound effects through discarded man-made objects. Experimental musician Li Jianhong's "Feedback in the Courtyard" (2021) brings the collected soundscapes to an environment that is neither entirely indoors nor entirely outdoors. In the courtyard, natural sounds become more subtle, and some electrical interference sounds lead the listeners into this microcosmic world. Li Jianhong describes it as hoping to become a part of the ecosystem, like a bug living in the courtyard, through this album. In this series of creatively using uncontrollable sound effects (ululation), the relationship between control and escape is crucial for understanding the social roles of ululation and contemplating its disappearance.
The curatorial project extends beyond the temporary exhibit and delves further into the politics of historicization and the transcultural nature of ululation. The works by Itziar Okariz served as a key catalyst for our investigation of ululation into a transcultural space, where it takes on a myriad of forms and names emerge, such as Mdiras in the indigenous Seediq community of Taiwan, tsahalulim in Hebrew, Glogge-Yodel in the Alpine region, irrintzi in the Basque region, and zaghrouta in various Arabic-speaking regions. Historical accounts suggest that during the 16th to 17th century in Europe, the growing influence of misogyny and orientalism is believed to have played a role in marginalizing African ululation culture. On the other hand, in the latter half of the 20th century, particularly during the peak of anti-colonial resistance in Cameroon, a distinct form of feminist struggle known as "ululation solidarity" emerged. Among these cross-cultural comparisons, the most intriguing lies in the retrospective reference to Chinese sound theory, particularly the interpretations of Cheng Gong Sui's "Ode to Ululation" by Taiwanese writers Chen Jiren and Xu Yazhu, who thoroughly regard ululation as a "spiritual seclusion." By juxtaposing historical and contemporary manifestations, this series of investigative exhibitions aims to evoke various sound cosmologies and elucidate the political significance of ululation, offering alternative perspectives.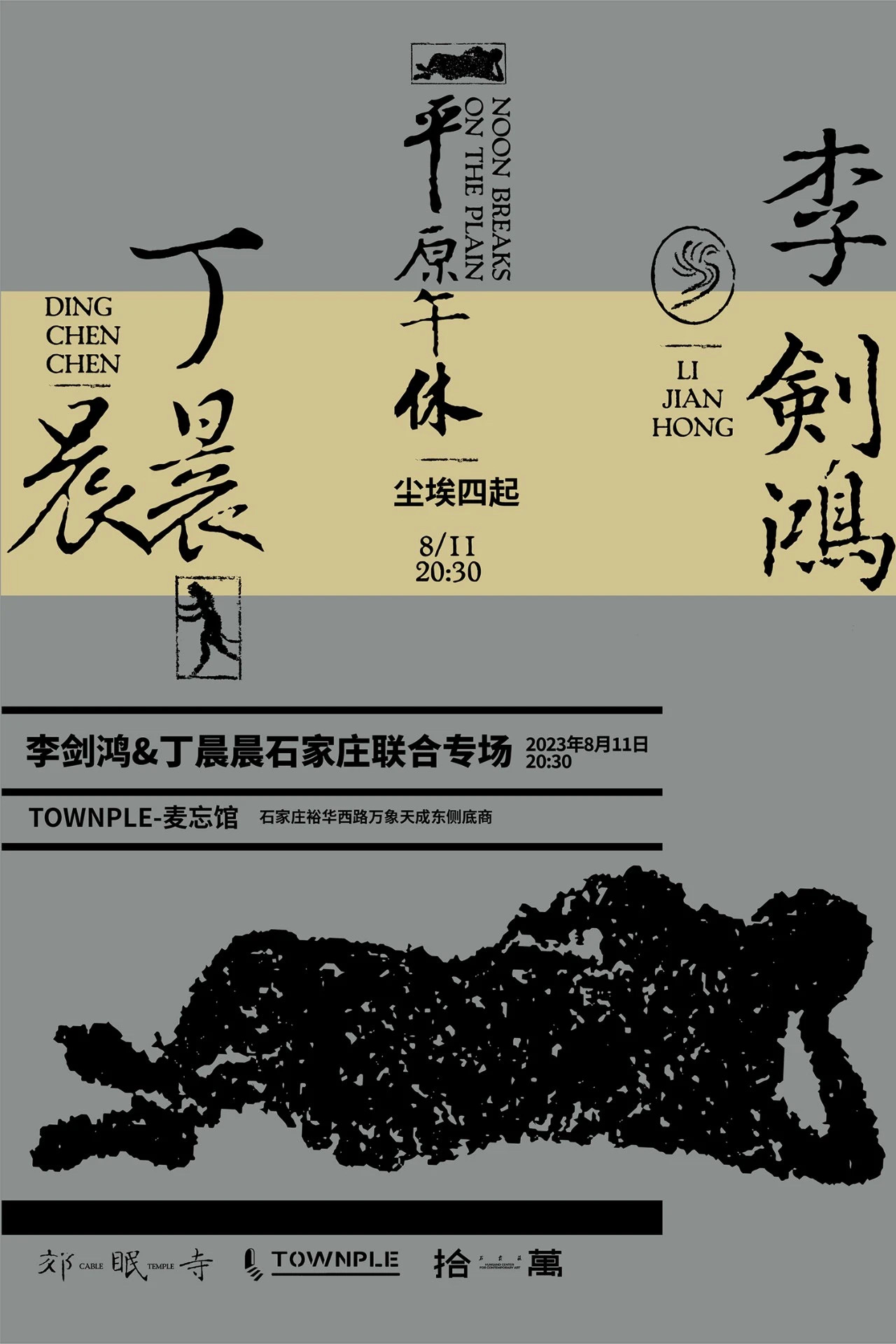 Artists:
Li Jianhong, Ding Chenchen
Performance Time:
F
riday, August 11, 2023, 20:30
Address: TOWNPLE | Commercial Space East Side of Shijiazhuang Central,, Qiaoxi District, Shijiazhuang,Hebei Province
---
Cable Temple, in collaboration with Hunsand Center for Contemporary Art, is delighted to invite Chinese experimental musicians Li Jianhong and Ding Chenchen for a special experimental noise and avant-garde improvisation event titled "Rising Dust" on August 11 (Friday) evening at TOWNPLE. This will be their first performance in Shijiazhuang.
The inspiration for this event stems from the concept of "Feedback," as Li Jianhong once used guitar feedback to create an immersive soundscape of swirling smoke during a performance in France. Feedback, as a sonic technique, embodies the artists' conceptual sound. As a prelude to the exhibition " Ulultronica: A Sonic Survey Exhibition" which opens at Hunsand Center for Contemporary Art the next day, this performance will resonate harmoniously with the exhibition.
---
-->