Qiu Shijie: Dahlia in the Black Sky
Beijing
4pm, 29 Oct. (Sun.), 2023
Qiu Shijie: Dahlia in the Black Sky
---
Qiu Shijie: Dahlia in the Black Sky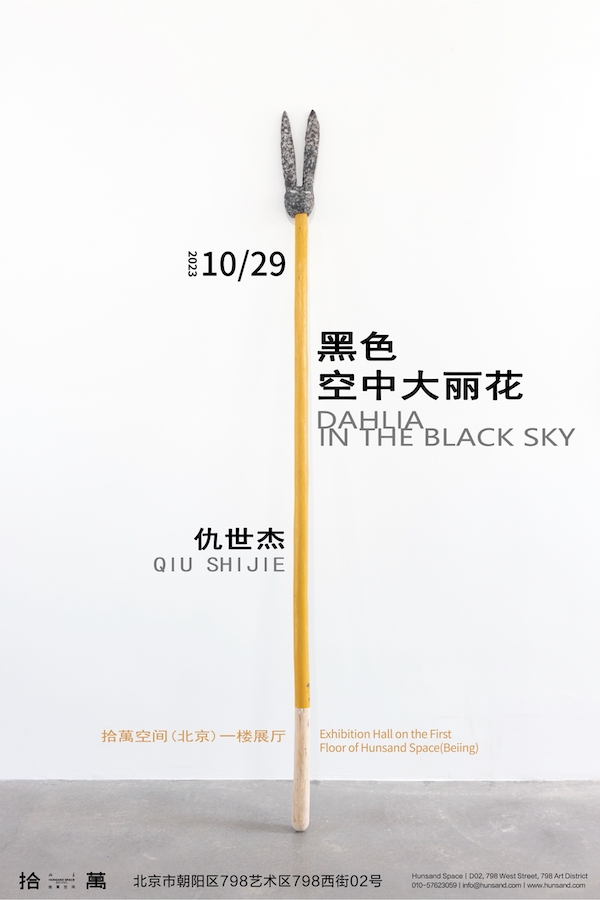 Artists: Qiu Shijie
Opening: 4pm, 29 Oct. (Sun.), 2023
---
Bound by both giving and receiving, the wild is seldom found. Over time, even a dog may howl at the empty sky. Suddenly, we hear tales of 'pigs flying up trees,' thinking it's absurd gossip or a fairy tale illusion, only to realize that reality can be incredibly magical. Events near and far, one after another, leave people astonished yet oblivious. In a matter of days, we bury ourselves once more in the overly concrete routine of daily life. By grabbing mud and bending branches, Qiu Shijie attempts to capture the lingering traces of life's tactile impressions. Following a thread of thoughts, through transformation, it appears clumsy yet graceful, moving closer to the initial form amid the complexity of myriad things. Beneath its humorous and endearing surface, it teems with the joys and sorrows of humanity. At night, away from the artificial interference of light, we look up, and it appears dark and silent, as the body extends upward, guided by the pull of vision. Closing our eyes, it's as if we see a dahlia in front of the courtyard gate, blossoming and disappearing in an instant amidst the vast expanse.
---
Qiu Shijie, born in 1970 in Qingdao, serves as a professor at the China Academy of Art and is also an artist. He currently lives in Hangzhou.
Qiu considers the space we are in, the environment we are around and the things we face every day as the basis which makes us; but we cannot entirely comprehend the foundation of which the basis is formed. It's like the formicary deep under the ground - it's there but you cannot have the whole view of it. Only when you impregnate it with cement or metal solution will it be revealed and sensed by us, which then form part of our cognition. The process by which "cognition" is developed is the language explored by Qiu over the recent years.
---