GAO SUO DU :STOOL, CHILI PEPPER AND AMALL HOTEL
Shijiazhuang
13th August - 16th October 2022
---
GAO SUO DU : STOOL, CHILI PEPPER AND AMALL HOTEL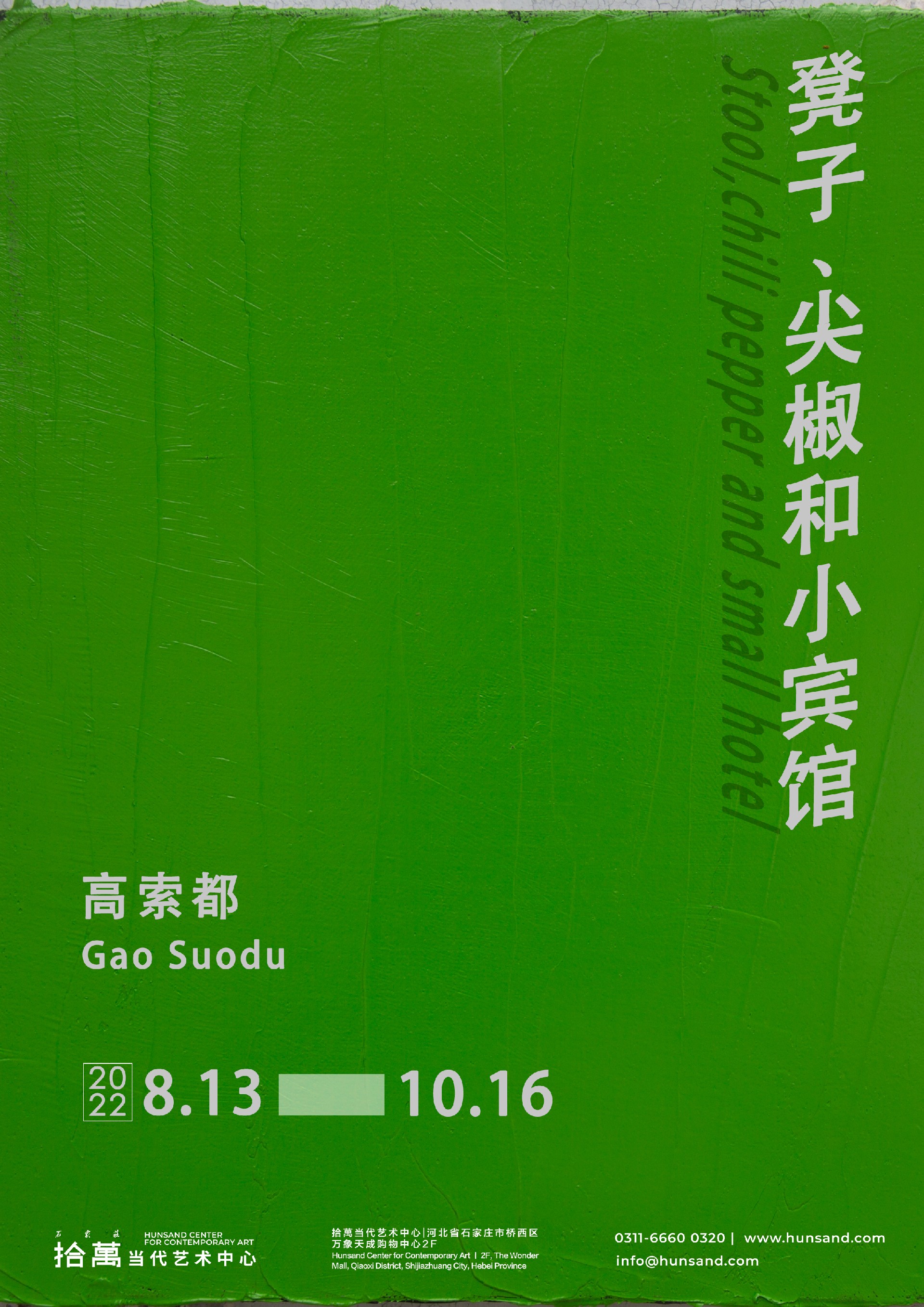 Gao Suodu's solo exhibition "Stool, chili pepper and small hotel" will be presented at Hunsand Space (Shijiazhuang). This is a concentrated presentation of the artist's works in the past two years since his solo exhibition "Empty Hands" at Hunsand Space (Beijing) in 2020.
In 2018, ten years after his graduation from Tianjin Academy of Fine Arts, Gao Suodu returned from Beijing to his hometown Baotou and started a brand-new life. Faced with the same canvas, Gao Suodu clarifies his position by constantly going deeper and deeper, and then extends his personal art practice into four threads: first, sketching based on the urban street scenes of Baotou; second, photography based on what he sees in daily life; third, thematic creation based on cell phone images; fourth, material experimentation based on the material language of painting itself. Fourth, material experiments based on the material he used in painting itself.
This is a process of gradual clarity, which is already foreshadowed by the title of the exhibition. Two years ago, the solo exhibition "Empty Hands" implied that the artist was still entangled in the gap triggered by the emptiness of different cultural and visual elements between the East and the West, between the past and the present. While now, "Stool, chili pepper and small hotel" refers directly to the everyday objects around him, and closely follows the reality of life. Through his own observations and experiences, Gao Suodu uses his personal language to record the "scent" of Baotou city.
As a result, his images become more and more simple, and the focus of his gaze more concrete and direct - behind them are the familiar people, objects and scenes of life with which he shares. But Gao Suodu does not "paint" reality in this way, but rather captures the materiality and poetry that are hidden within reality, and yet transpire above it, which are ordinary, yet enough to penetrate the space and resonate with the moment of déjà vu of others in other places.
---
Gao Suodu, born in 1985 in Baotou, Inner Mongolia, graduated from the Department of Integrated Painting of Tianjin Academy of Fine Arts in 2008 and now lives in Baotou, Inner Mongolia.
---
---