YANG YANG : BEYOND HUMAN CONTROL
Shijiazhuang
18th May – 22nd July. 2022
---
YANG YANG : BEYOND HUMAN CONTROL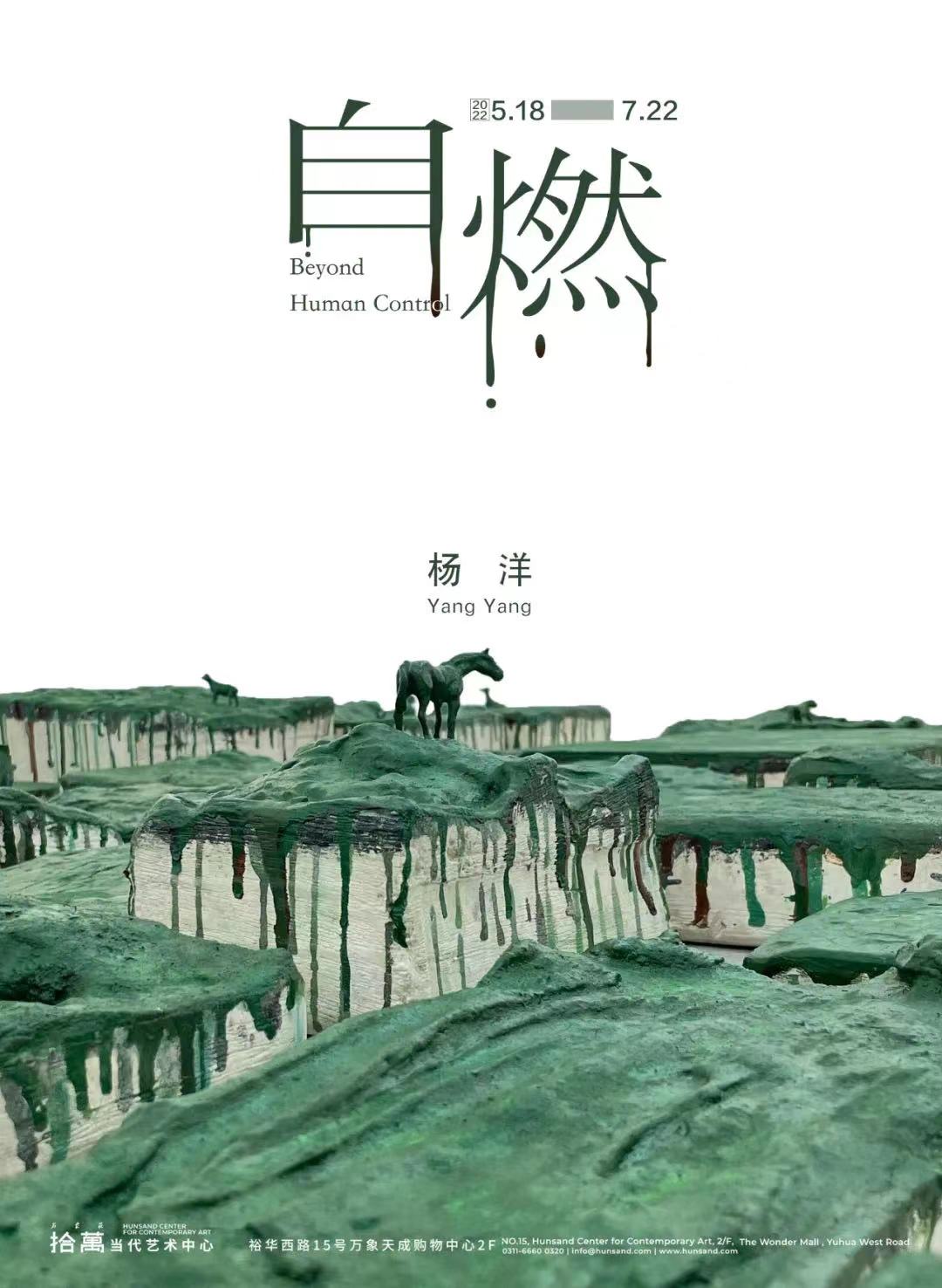 Hunsand Center for Contemporary Art (Shijiazhuang) is proud to announce its first collaboration with artist Yang Yang and will be presenting his solo project " Beyond Human Control" from 18th May, 2022.
As a series of sculptures with the same name of the exhibition, Yang Yang did not have an expected plan when he created the work "Beyond Human Control". His production method was rough, allowing the shape, volume and mechanism of the work to take shape naturally, and finally embodied into some imaginary terrain and traces of animal activities. Correspondingly, in the painting "Nowhere But Everywhere", Yang Yang painted the gradient greens of the grassland in different seasons, and then tore it into pieces to destroy the unique moments in those seasons. If "Beyond Human Control" is a primitive, three-dimensional imagination of Yang Yang's hometown of Hulunbuir, or an emotional recovery from memory, then "Nowhere But Everywhere", focuses on the subtleties, an emotional gap between overlooking and looking down, and through active intervention to suggest changes in personal circumstances and the surrounding environment, as well as the hidden crisis.
This crisis comes not only from Yang Yang's departure from his hometown and his "runaway", but also from the silent penetration of human activities into the natural ecology. The installation "Dense Forest" metaphorically describes this psychological and social boundary: ready-made items such as hangers, camouflage clothing, and plants are built into an artificial "forest". in which the camouflage uniform, as the daily wear of laborers, represents an effort to integrate into nature, but this "forest" is still like a green landscape in the city - with some natural beauty, but also cannot get rid of the deliberate discipline - the existence of the meat grinder is obviously suggesting some kind of arbitrary "invasion".
By contrast, pastoralists in marginal areas appear to be better able to cope with the growing ambiguity of such borders. In the video work "Sheep", abandoned houses are transformed into sheep pens, and people work at sunrise to clean, pray, herd sheep, slaughter livestock, play games and feed themselves, and then repeat the cycle. The lens does not refer to anything; just as modern civilization has not changed the old rules here. All that is real is reasonable, just for survival or living. Like the fire in the photographic work "Untitled", which burns, extinguishes, and then becomes its own meaning.
However, those who "run away" can no longer go back to the "old world". The urban village hut in "Next Door Neighbors" has become a shelter between the old world and the new world. They are separated from the times, forming a set of independent operating rules. People are committed to it. They work and sleep, and leave small traces of life. Those traces are ordinary and simple songs of survival of ordinary people, just like the excerpts in "Poetry", which not only connect the memories of past hometowns, but also try to transform into new emotional connections. When they finally appear in the humble room of imagination, they constitute the life fable of each natural individual.
---
Yang Yang, born in 1993 in Hulunbuir, Inner Mongolia, now lives and works in Guangzhou. Solo exhibitions: Beyond Human Control, Hunsand Center for Contemporary Art (2022); Nowhere But Everywhere, Canton Gallery, Guangzhou (2021). Selected group exhibitions: Baths of Caracalla, Canton Gallery, Guangzhou (2019); Art Museum Game of Guangzhou Academy of Fine Arts: Simulated Life of Art Research", Guangzhou Academy of Fine Arts, Guangzhou(2016)
---