STOP MAKING SENSE
June 23-August 12, 2018
陈卓 高索都 季俊 蒋竹韵 潘涛 仇世杰 宋佳茵 辛云鹏 叶秋森 郑平平 朱荧荧
---
STOP MAKING SENSE
Artists:Chen Zhuo、Gao Suodu、Ji Jun、Jiang Zhuyun、Pan Tao 、Qiu Shijie、Song Jiayin、Xin Yunpeng、Ye Qiusen、Zheng Pingping、Zhu Yingying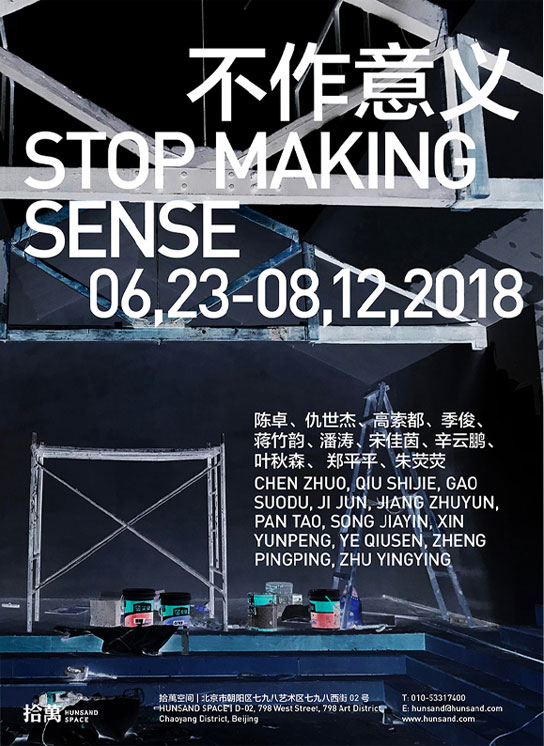 The exhibition "stop making sense" will be presented on May 26, 2018. The title of the exhibition is derived from the documentary of the same name by Jonathan Demme, which records the three consecutive nights of talking heads at Hollywood Pantheon theatre in 1983. The interesting part of the performance is not just the music of talking heads, but the way the band treats the stage. In the face of Pantheon theatre, a temple of music performance with a long history, talking heads is not "ready for battle" as imagined, but rather a bit "casual": the opening background of the decoration scene, the staff on the stage at any time, the musical instruments and musicians on demand In a word, everything seems to have been accomplished by chance.
In view of this, it also coincides with the first exhibition of 100000 space moved to 798 Art District. The 11 artists also want to express a sense of "coincidence" through their works. This kind of "coincidence" is not without careful preparation and rehearsal, but a "sense of meaning" brought about by the inevitability of the system under the established system mode. If we say that "space" is a necessary element leading to the generation of meaning, we can not avoid the meaning it points to and the sense of form it causes today. However, artists can break the formal meaning of traditional space through their own ways under the framework of this large system. In the seemingly disordered state of continuous flow, artists can enhance the viscosity of the whole "space", blur the faces of the "audience", and even try to change the attributes of space. Just like the way talking heads treats Pantheon theatre, who would have thought that it was the venue for classic stage plays such as cat and river dance without knowing the performance background?
"Don't make sense", just don't make too clear setting, just like the more popular and offensive translation of "stop making sense" - don't be serious!
---